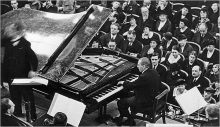 June 5, 2019
1 bullet & 17 piano concertos
The Viennese pianist Paul Wittgenstein lost his right arm in1914 after a bullet hit him at the Russian front.
Rising above a handicap that would end most performers' dreams of concert life, he carved out a place for himself in musical history by commissioning some of the 20th century's most striking piano music. All for the left-hand. Crowned by Ravel's "Pour la Main Gauche", the collection of 17 concertos written for him has inspired countless handicapped pianists.
As an entrepreneur your circumstances will not always let you manage your company with "2 hands". Sometimes the competitors, other times protectionism of various countries or trade wars may leave you with only one hand to run your business. How to be prepared for such a situation?
A solution is to build flexibility into the business. And one way to get it realized is by reducing dependence: that you are still safe if you have to part ways with any of your clients, suppliers, or employees.
Song of the blog: Yuja Wang – Ravel Left Hand Piano Concerto