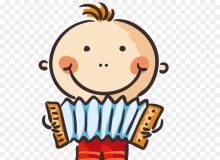 April 18, 2018
Accordion… your child's first instrument?
Maybe it was because we had a piano at home. Around the age of 5 I found myself getting lessons from a teacher on that black box with white and black keys.
According to various sources on Internet, piano, guitar, violin or the flute are the main instruments the parents see as best suitable for their children. A French horn, a harp or an accordion does not come to mind that easily.
Though it was easy for the grandmother of Ksenija Sidorova living in Riga. Encouraged by her grandmother, steeped in the folk tradition of accordion playing, Ksenija started to play the instrument at the age of eight.
Today, praised as "superbly subtle and virtuosic" (The Arts Desk) and "an amazingly accomplished artist" (Classical Source), Ksenija Sidorova is the leading ambassador for the accordion, easily recognizable among tens of thousands of female soloists, who have excelled in playing the piano, harp, violin or the flute.
Having decided about the sector you will be investing in, as a fresh entrepreneur look at the opportunities easily rejected or not taken seriously or those that don't get classified as trendy by others. Your luck might be lying exactly there waiting for you.
It might also be a good idea, if possible, to ask your grandmother… ☺
The performance of the blog: Ksenija Sidorova – Astor Piazzolla: Libertango