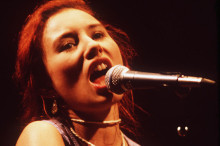 March 6, 2014
Angie
Wikipedia: Released as a single (by Rolling Stones) in August 1973, "Angie" […] topped the charts in many countries throughout the world. Popular belief has it that the song was about David Bowie's first wife Angela or even about actress Angie Dickinson. The song was written almost entirely both lyrically and musically by Keith Richards (from Rolling Stones) and in Richards' own biography he claims that the name Angie is a pseudonym for heroin and his attempt to quit while detoxing in Switzerland.
For whatever reason it was written, taking the song as such and letting it sung by somebody else makes it "neutral"… It becomes a song of separation from a once beloved one. And when you give it to someone like Tori Amos to make a cover out of it, chances are that she might make it your song as an entrepreneur. The song goes like: Angie, where will it lead us from here? […] Angie, ain't it time we said goodbye? Questions that you ask yourself looking into your future.
Although you might have liked your job as an employee until recently, you might be someone with an inner urge for independence. When you start feeling some symptoms like "I would do it otherwise," or "If I only had the chance to make this then the whole world would be different," the time has come to sing Angie.
And you end your job to sail to independent waters out there waiting for you and whisper as you might have said it to your ex-lover: They can't say we never tried.
If you would like to listen to Tori Amos' Angie , please click here.
The oldie of the week: Ronan Keating (Cover) – If Tomorrow Never Comes (2002)