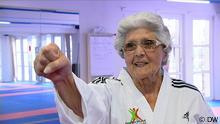 May 1, 2014
Aren't you too old for this?
Recently my doctor told me, "We will live into our nineties." I don't know whether to consider this news as positive or negative. ☺ I know that the average life expectancy is increasing due to technological progress and the improvements in the medical diagnosis and treatment methods. One can realize this specially in a restaurant in a developed country with a low population growth, like Germany. The place is full of healthy elderly people.
It is quite natural for the average age of entrepreneurs to increase in countries where the average age of the population is increasing. Additionally, in periods when unemployement increases more people think about establishing their own business.
I think that you can always establish your own business irrespective of your age. What is important is not establishing the business but what you then do. First of all, you need to have a realistic budget. To prepare your budget you need to forecast the figures for the future. You have to calculate your income and costs. I know that it is hard to foresee the future. However, if you cannot create the future in your mind on the basis of your budget then it is hard to achieve it in reality.
Harland David Sanders founded KFC at the age of 65. Hence the question should not be at which age to start your company but how to grow it once you have established it.
The oldie of the week: Paula Abdul – Rush, Rush (1991)