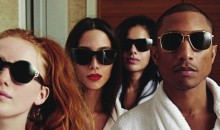 July 9, 2015
"Beauty has no expiration date"
One reads these words as the video starts. It is the clip of the song Come Get It Bae by Pharrell Williams. Mr. Williams has chosen ladies around the age of 40 to dance in the clip, instead of the usual roll-call of dancers in their teens and twenties.
In a behind-the-scenes video of the same clip, you can listen to the dancers' views. They can be summarised in one word: awesome.
Awesome… should be how you define your feelings as you start your own business. Then you enjoy life and what you are doing. In my experience, that is not a must for success but a very valuable feeling to have while overcoming obstacles on this road to success.
If bad luck really hits you, you might feel like giving up, packing it all in. Remembering how you once felt awesome might be what keeps you on the road.
Even if the situation seems to be desperate, there is always a chance that there's somebody out there looking for you, your knowledge, your services and products.
The behind the scenes video: Come Get It Bae
Song of the week: Katy Perry – Firework (2010)