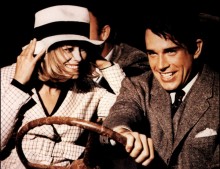 March 24, 2016
Bonnie&Clyde
I am sure quite a number of you have seen the movie. It is about the life of Bonnie Elizabeth Parker (1910 – May 23, 1934) and Clyde Chestnut Barrow (1909 – May 23, 1934), who were well-known American outlaws. Their reputation was cemented in American pop folklore by Arthur Penn's 1967 film Bonnie and Clyde.
If you scroll down any of my web pages you will see the logo of the company Bonnie&Clyde as the designers at the bottom of the page. I found them in Bucharest.
There were many reasons why I've chosen them after working and talking with a number of companies in their sector. Creativity, knowledge and some other factors pointed to them. But the main reason for my choice of this company 500 km away from my office was based on something quite different: trust.
They were ready, in their then newly formed company, to invest in a new project of mine and to develop it together with me. The project interested them beyond profiting from the production of it. I was meeting them for the first time in my life and they were trusting me for what I was saying.
Whatever you do… show that you trust your customer.
My Bonnie&Clyde might not show up in a movie with their story, but their company is growing on the road to success every passing day. To reach their web site please click here.
The song of the week: Georgie Fame – The Ballad Of Bonnie And Clyde (1983)