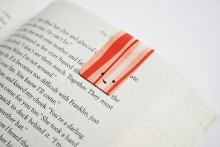 June 9, 2016
Don't assume… Check!
I am a good book reader. I visit a bookstore at least once a week. I also enjoy buying all types of bookmarks and separators.
I had an idea as I was preparing the details for one of my speaking assignments to be held at an international meeting in Milan, Italy. To be remembered by my listeners in the future, I wanted to distribute at the end of my speech magnetic bookmarks, specially produced for that day. I made a design and then ordered them at a suitable manufacturer. I managed to get them just before I started my trip.
At the end of my speech, which got a lot of interest from my audience, I distributed the magnetic bookmarks without any explanation. I was expecting a "wow" sound from the people sitting in the room.
There was a silence.
Later I found out that nobody in my audience knew that the distributed "things" were bookmarks.
We can deduce many results from this experience… reaching out even to the frequency of people's bookshop visits.
The main lesson I got though is: don't think that everybody knows what you know even if it is a bookmark. Ask a couple of people beforehand if you want to surprise them and not yourself with something you think they would know about.
Song of the week: Kelly Clarkson – Mr. Know It All (2011)