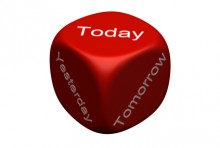 June 30, 2016
Living in yesterday… today
An excerpt from a profile on a social media platform:
"Thank you for considering to connect with me. Please note:
• I'll always accept invitations from my clients, current and former co-workers and friends.
• I always welcome networking requests for business deals and job opportunities.
• If you are looking to expand your network: My contacts are precious and I do not intend to share them with you for business opportunities.
• If we haven't met or if you think I may have difficulty remembering who you are: please state your purpose and how I would benefit from connecting."
If you are against being contacted except when it is surely of benefit to you, social platforms on Internet are not for you. It is better to stay at home. ☺
For my last seminar, which I had announced only by emails to my database, there were 61 subscriptions. Only 18 of them I had invited directly. All the others had learned about it through my connections, almost all of whom I do not know personally.
If you are in business life you have to increase the chances of contact in any way you can, also by helping others to increase theirs.
The song of the week: Amy Winehouse – Rehab (2006)