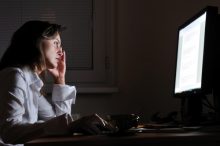 December 15, 2016
"Make You Feel My Love"
"Make You Feel My Love" is a song written by Bob Dylan that appeared on his 1997 album "Time Out of Mind". It was first released commercially by Billy Joel before Dylan's version appeared later that same year. Since then numerous performers such as Adele, Garth Brooks, Bryan Ferry and Kelly Clarkson have covered it.
At my younger years after starting my own businesses its lyrics reflected my mood time and time again when I was still sitting in my office late in the evenings:
When the evening shadows and the stars appear,
And there is no one there to dry your tears,
I could hold you for a million years
To make you feel my love
You might get the feeling that you have a great companion in your business. Be careful! You might be at the doorstep of a dangerous relationship. You might be starting to hear words like in the refrain of "Make You Feel My Love":
I know you haven't made your mind up yet,
But I will never do you wrong.
I've known it from the moment that we met,
No doubt in my mind where you belong.
In such a case: get out of the office and mix up with people! There is another life out there.
I should know. ☺
The song of the week: Adele – Make You Feel My Love