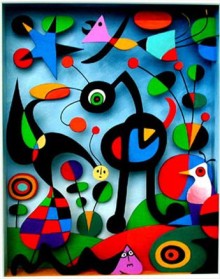 December 12, 2013
"The same way you make love…"
"How did I think up my drawings? Well I'd come home to my Paris studio at night, I'd go to bed, and sometimes I hadn't any supper. I saw things, and I jotted them down in a notebook. I saw shapes on the ceiling…" […] "Poetry and painting are done in the same way you make love; it's an exchange of blood, a total embrace without any thought of protecting yourself." (Source: Wikipedia)
These are comments made by Joan Miró, the painter. You might be having (or have already used) similar comments easily as an entrepreneur too. One sees things on the ceilings or has dreams about the future and jumps into the cold waters without much caution. For a painter it might be easy to express it as an analogy to making love. In some of my cases it was like getting out of the sea with my Annabel Lee live at my side… against all odds. ☺
You have to have dreams. There can be no entrepreneurs without dreams. And you have to be creative in whatever you are planning to do. Selling sandwiches or second hand cars: there is no difference if you love what you are doing.
Today, Miró's paintings sell for up to US$26 million. Hope your companies will be worth for more than that. ☺
For the poem Annabel Lee by Edgar Allen Poe, please click here.
The oldie of the week: Christina Perri – Arms (2011)