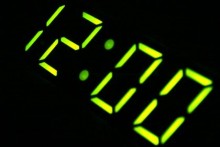 November 12, 2015
To queue at midnight
I met computers of that brand as I started making digital music. Later, I was among those who arranged many of those small boxes next to each other for desktop publishing. Currently, I have two of their products in use.
Thru the years I had very few problems in terms of maintenance. And each time I had a problem there was somebody available to give a quick service. Their being resilient against viruses was icing on the cake.
I called one of their sales points in Istanbul a few weeks ago because my laptop was resisting to be turned on. They told me that I had to register online for service requests. I was not successful. I called the same number again. This time they told me that I had to try again at midnight but since there were usually a lot of requests for service, the appointments for that day were completed within fifteen minutes. I had to try day after day… at midnight.
For me this means either, "Now our products have such a low quality that we are overloaded with maintenance work." or "You bought the product. Paid us a lot of money. Thanks. Now you have to wait."
Giant companies have so many deficiencies especially in supplying service to their customers. As they grow bigger, they think that they can get away with anything and if we are not careful enough we might become their puppets. On the other side this behaviour helps some others to offer better solutions.
.
Check the weak points of the market leaders as you develop your products and services. Companies with good servicing models will do great business in the future.
The computer brand? If you have not guessed it yet you are not using their products. ☺
Song of the week: Dido – White Flag (2003)