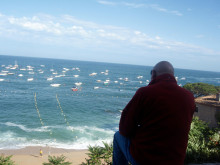 January 23, 2014
"You are a great guy!"
Years ago I received a lot of praise as I was deferentially seen to the door after each of my meetings concerning a new product. I enjoyed the flattering. However, I was not successful in marketing that product.
Suppose that you think that you have a good idea and you decide to bring this idea into life. You may wish to discuss this idea over with some of your friends or with some people from the relevant business sector. You must surely do this. If you then hear most of these people say, "What a good idea, you are a great guy!" immediately move yourself to a solitary place to think about where you have gone wrong. ☺
No new idea is without some faults. And people are inclined to look for the faulty aspects of any new and/or good idea. If they tell you, "This is a great idea!" either they have not listened to you or they did not understand you or did not believe enough in your idea even to discuss it.
On the other hand, if you receive comments like, "Well OK, but if you do that in those conditions then you might be making a mistake," then try to make that meeting to be a long one and ask the other party all the questions that come to your mind. That person is interested in your subject and is trying to share his/her knowledge and experiences with you.
When someone tells me today, "You are a great guy!" as he/she accompanies me to the door, I still get goosebumps although I know that they mean(?) what they say. ☺
The oldie of the week: The Corrs – What Can I Do (1998)