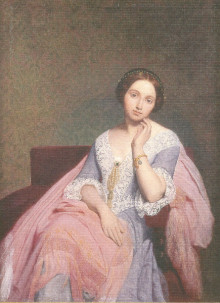 November 14, 2013
Charlotte
It is one of the few memories that I remember from my early childhood: My mother playing Chopin's C-sharp Minor Walz on the piano. I still have the music sheets she used, although now somewhat battered.
Through one of his friends Chopin got acquainted with Charlotte's father Baron James de Rothschild and her mother Betty in 1832 just as he was preparing to go to the US from France. As a result of the intense requests that Chopin received that night to give personal lessons, he decided against going to the US and stayed in France. He gave piano lessons to Charlotte, the family's oldest child and their only daughter. For years Chopin received support from the family. As a way of showing his gratitude for this support he dedicated this beautiful walz, which he had composed in 1846, to Charlotte. (Source: hbasak.blogcu.com)
In a conference you get acquainted with a well-known businessman. Some of your friends in that meeting tell him how good you are in business. At that time you are making some preparations to start a new company. This businessman proposes to you to be your partner in the new company that you'll be managing. Many entrepreneurs will tell you similar stories. Is it luck?
If you are an entrepreneur, you need to believe in luck. Actually you have to work hard to increase the probability of luck coming your way. A tip: Touch as many people as you can. One of them might be "carrying" your luck.
Chopin must have felt that luck was coming his way. If you would like to listen to his C-sharp Minor Walz, please click here.
The song of the week: Diana Ross – When You Tell Me That You Love Me (1991)