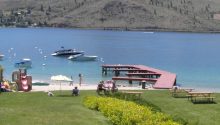 October 20, 2016
Entering the water
Assume it is summer and you are at the seaside ready to enter the water. You can either walk into the water from the sandy shore or jump from the platform taking you out a couple of meters into the sea. Would you let your body feel the coldness of the water slowly by deciding to use the shore or would you jump from the platform to get it over with as soon as possible?
One may have to make a similar decision while entering a new business. Do I start small and grow slowly into the market or jump into it without being afraid of what happens next?
If you know how to swim, your decision would not change the outcome: your body would function the same way irrespective of your method of entering the water. If it's your first date with the water, the jumping option may not be recommendable. ☺
In the case of business the same principle holds through. But some additional care might be needed. The water might not be the water you had experienced earlier. Even you were in such a business before, the market place might have changed since you were there the last time.
The song of the week: Chris Rea – On The Beach (1986)