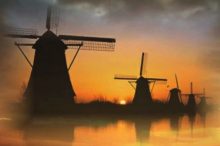 September 29, 2016
The windmills of your mind
And the world is like an apple whirling silently in space
Like the circles that you find in the windmills of your mind
… words from the lyrics of "The Windmills of Your Mind", made famous by Noel Harrison. It was written by the French composer Michel Legrand, with English lyrics by Alan and Marilyn Bergman and was used to memorable effect in the Steve McQueen thriller "The Thomas Crown Affair" (it won the Oscar for best song in 1968).
I listened to it maybe hundreds of times. Each time I found something different in it that affected me. Though I never knew what they were. It is one of the most sung products of the music industry. What caused the success?
A nice melody? Sure. But there are many of its kind in the market. And how come with such a set of lyrics that almost have no meaning to them? Except with words fitting well in the minds of the listeners I assume… or is it our feelings embedded in the lyrics distributed in the music forcing our minds to accept it under any condition?
You want to market an idea, a product, a feeling? Listen to The Windmills of Your Mind. Maybe its words will give you a clue on how to start the process: ☺
Round like a circle in a spiral, like a wheel within a wheel
Never ending or beginning on an ever-spinning reel
Like a snowball down a mountain, or a carnival balloon
Like a carousel that's turning running rings around the moon
The song of the week: Jose Feliciano – The Windmills Of Your Mind