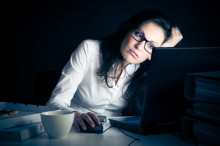 May 15, 2014
Time out from love
Got it… You are in love with your business. ☺ You cannot spend even a second away from it. However, you need to remember that there is a limit to everything and every second you spend on your business has an emotional or financial opportunity cost of something else which couldn't be done in that same second.
I don't know how much Tim McMorris was aware of that cost as he named his song as Overwhelmed. "[…] by you" he sings pointing to his lover. "Where would I go, or be, without you?" he asks, to tell about his love with good intentions but even while you watch the video of the song you realize that the situation is getting a bit out of hand. One wants to say, "Stop and take a breath." ☺
I am sure your business will also love you. It will not want to let you go neither during the weekends nor in the holidays. It won't let you forget itself. It'll do all within its power to prevent you from getting it out of your mind. Sometimes it will make you experience the love/hate dilemma. When it is your own business then your work will never end unless you decide otherwise. To express it better, the decision to 'give a break' is up to you. Sometimes for years you may not go on a holiday.
Be aware of its dangers if you want to sail in the independent waters. Don't think that I am exaggerating. The writer of these lines went through such loves a couple of times. ☺
You can listen to the song Overwhelmed by clicking here.
Song of the week: Sade – No Ordinary Love (1993)